Công ty TNHH TMĐT Chu Vũ chuyên cung cấp Loa Creative Chính hãng giá tốt. Quý khách có nhu cầu vui lòng liên hệ: 0939 24 0939 để được tư vấn sản phẩm và giá tốt nhất tại thời điểm mua hàng.
2.1 Gaming Speaker System with Customizable RGB Lighting
​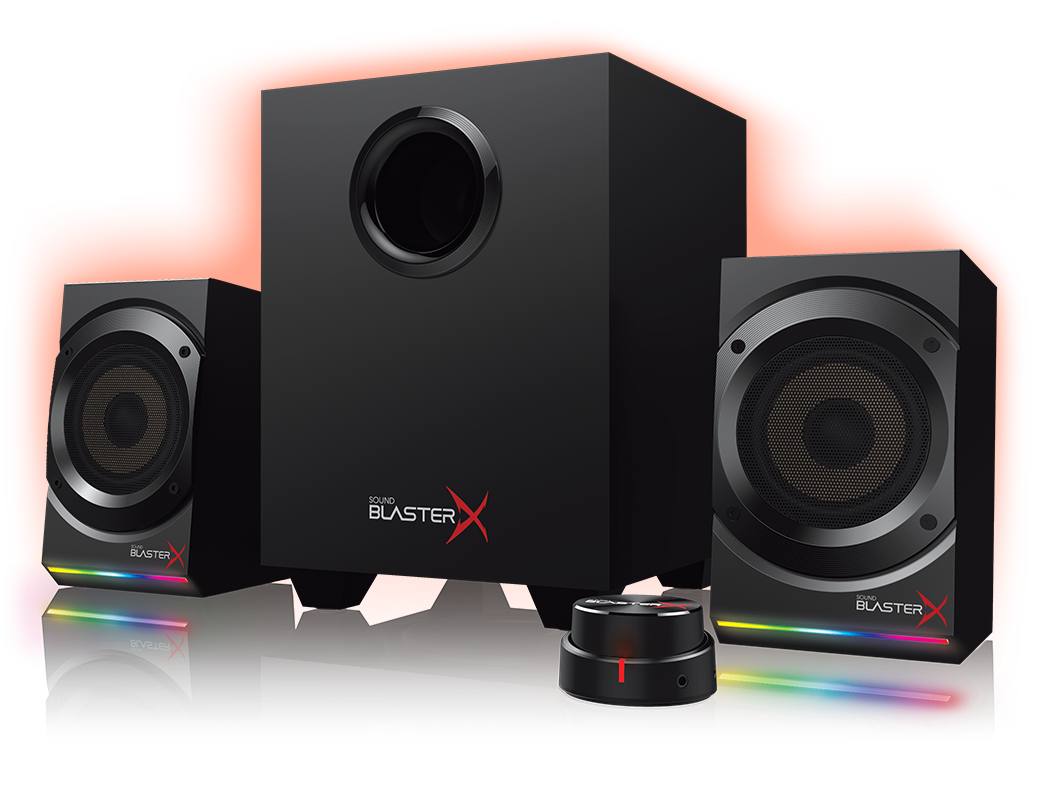 FEATURES
OVERVIEW
The BlasterX Kratos S5 is the best-in-class 2.1 gaming speaker system with Aurora Reactive lighting system designed to elevate your listening pleasure for gaming and music. Packing powerful 4" satellite drivers and 6.5" subwoofer driver in wooden enclosures, the Kratos S5 delivers clear highs, detailed mid-range, and deep bass. When connected to your PC or Mac via USB, you can also enjoy High-quality 24-bit/96kHz digital audio playback.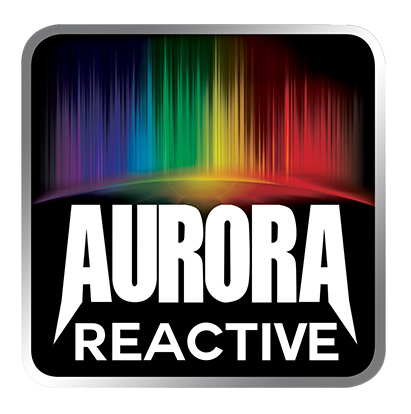 Light up Your Game with the Aurora Reactive Lighting System
The Aurora Reactive lighting system gives you ambient lighting to accompany your games with its fully customizable 16 million colours LED lighting1. You may choose from six presets or customize colors and patterns to match your other RGB-enabled peripherals or fully integrate with other Aurora Reactive lighting system-enabled products.
AUDIO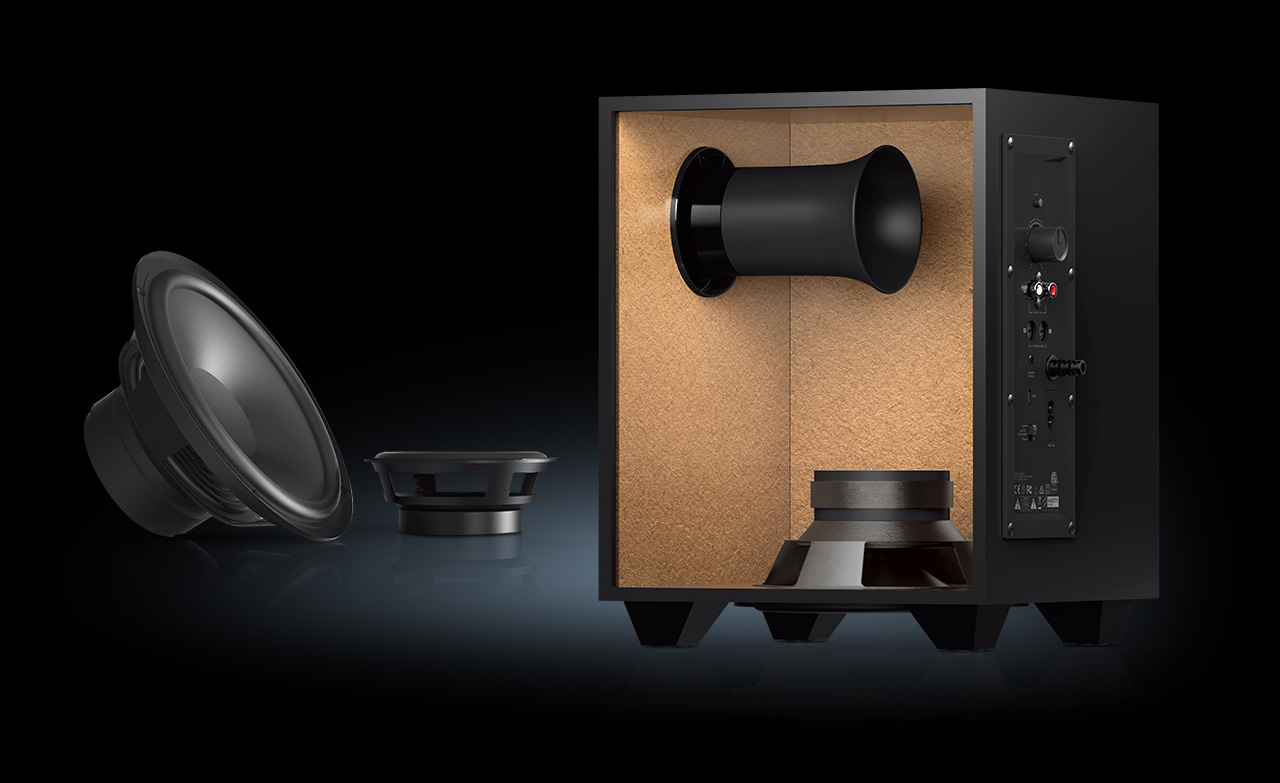 Best-in-class 2.1 System
Built entirely out of wood for better resonance damping, the Kratos S5 enclosures deliver fuller, warmer, more natural sound than plastic-based designs. The full-range satellites are optimized and designed with larger volume capacity to produce clear highs and detailed mid-range audio. The custom-tuned, down-firing subwoofer with port-tube design pumps out deep dynamic bass for massive gaming, superb movie and rich bass-centric music playback without distortion.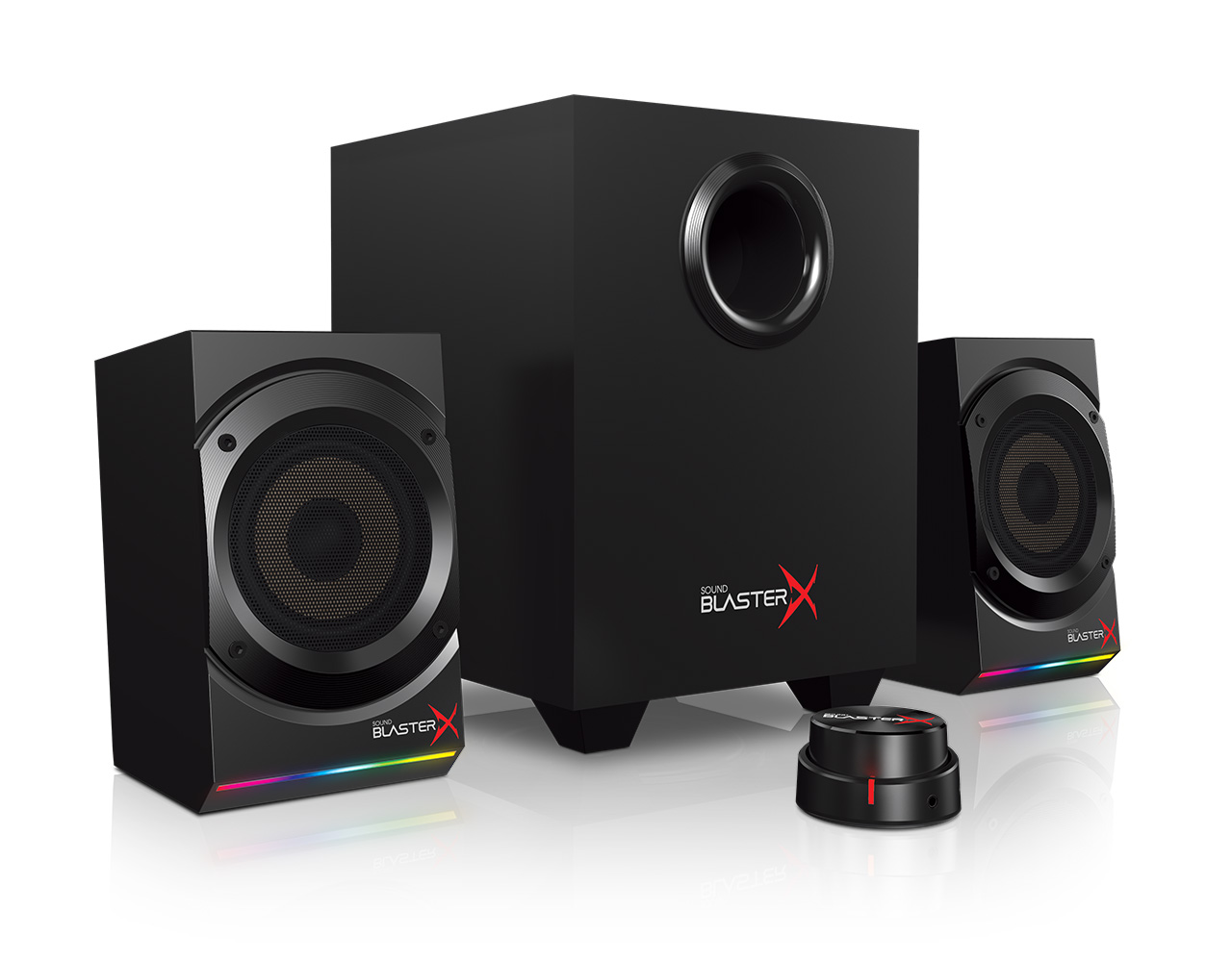 Precision with 24-bit/96khz USB
The Kratos S5 levels up your sound experience to true audio fidelity on PC or Mac like never before. Simply connect to it via USB to enjoy 24-bit/96kHz resolution playback.
SOFTWARE
Blasterx Acoustic Engine Pro Audio Enhancements
Experience enhanced levels of audio realism with immersive virtual 7.1 surround sound, clearer cues and bass boost through the fully customizable BlasterX Acoustic Engine Pro software for PC.
CONNECTIVITY

Extend Your Entertainment Options
Use the dual RCA-to-stereo adapter and connect the speakers to your LCD TV or DVD player and enjoy solid audio entertainment.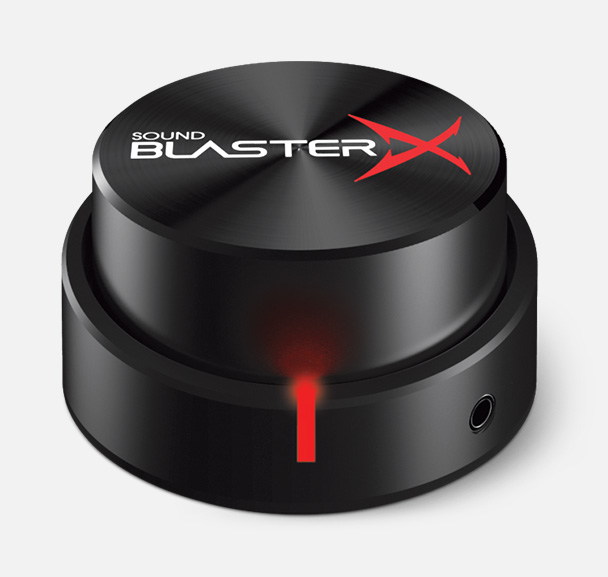 Audio Controls at Your Finger Tips
Control volume conveniently through the easy-to-access audio control pod. The pod also provides hassle-free connection for your headset and microphone.
1 The Aurora Reactive system is fully customizable when the Kratos S5 is connected via USB.
A CLOSER LOOK
SPECIFICATIONS
System Configuration

2.1 system
Dimensions (H x W x D)

Satellite: 198.5 x 118 x 120 mm, Subwoofer: 306 x 220 x 260 mm
Weight

Subwoofer: 3.4kg, Satellite: 0.8kg x 2
Connector Type

USB, Analog
Color

Black
SYSTEM REQUIREMENTS
Windows
Intel® Core™2 Duo or AMD® equivalent processor (2.8 GHz or faster recommended)
Intel, AMD or 100% compatible motherboard
Microsoft® Windows® 10 64-bit, Windows 10 32-bit, Microsoft® Windows 8.1/8.0 32/64 bit, Windows 7 32/64 bit
1GB RAM
>600 MB of free hard disk space
Available USB 2.0 port
Macintosh
Macintosh running Mac OS X 10.6.8 or higher
1GB RAM
>600 MB of free hard disk space
Available USB 2.0 port
PACKAGE CONTENTS
2 x Kratos 2 satellites
1 x Kratos 2 subwoofer with wired volume control
1 x Micro USB Cable (1.8M)
1 x power cord
1 Warranty and Technical Support Booklet
1 Quick Start Guide
1 S
Chức năng nhận xét chưa được kích hoạt
Chức năng đánh giá chưa được kích hoạt
Bộ lọc sản phẩm
Nhà sản xuất