Công ty TNHH TMĐT Chu Vũ chuyên cung cấp Loa Creative Chính hãng giá tốt. Quý khách có nhu cầu vui lòng liên hệ: 0939 24 0939 để được tư vấn sản phẩm và giá tốt nhất tại thời điểm mua hàng.
Chương trình khuyến mãi khi mua Loa Creative Sound BlasterX Katana tặng loa Bluetooth Creative D80 hoặc Tai nghe Audio Technica ATH-S100iS
Loa Creaative SoudnblasterX Katana Âm thanh trung thực, đỉnh cao về thiết kế với công nghệ đèn Led Các Katana kết hợp các hệ thống chiếu sáng Aurora phản ứng, nơi mà cơ sở của nó được xếp với 49 đèn LED có thể lập trình . Cũng giống như mỗi Hamon độc đáo của thanh kiếm Nhật, Aurora hệ thống chiếu sáng Reactive lấy 16,8 triệu màu sắc cho bạn tùy chỉnh các hiệu ứng ánh sáng không khí để tạo tiểu sử độc đáo của riêng bạn khi chơi game cũng như lúc bạn xem phim.
​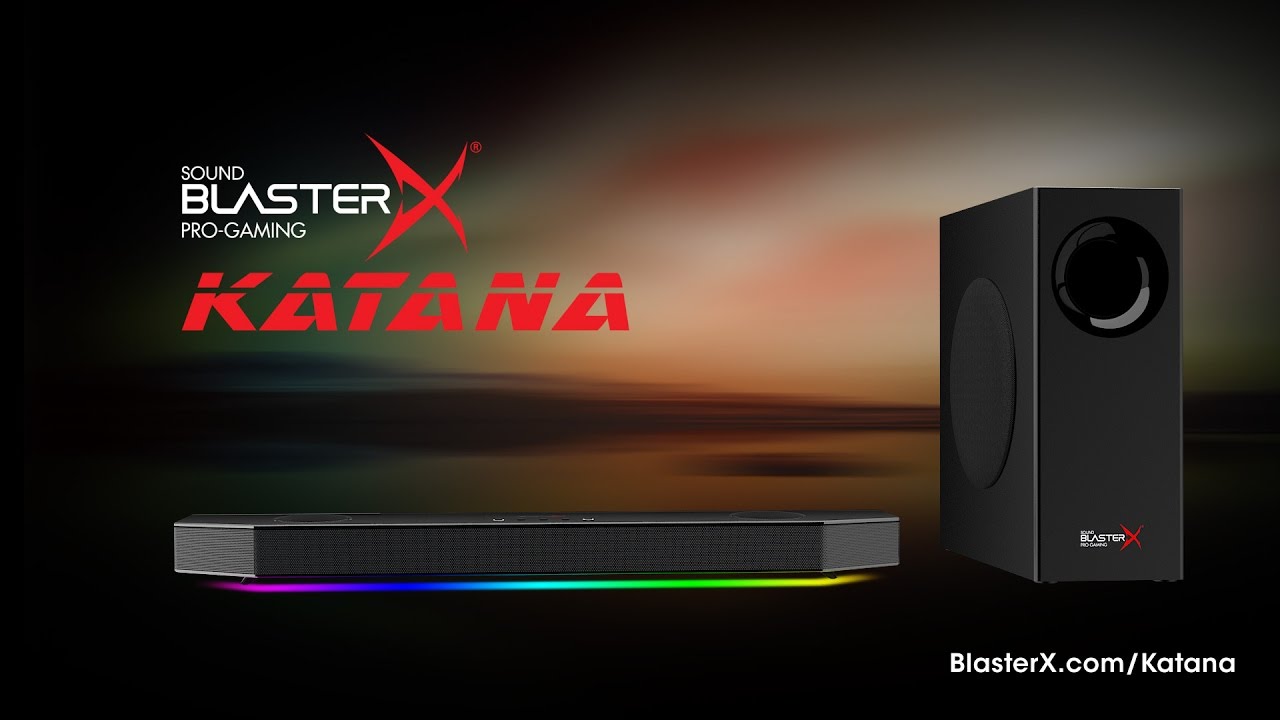 FEATURES
OVERVIEW
Named after the sword so technologically perfect in structure and so demanding in its creation, the Sound BlasterX Katana exhibits the same sleek sophistication and formidable strength in its design and audio prowess. In a league of its own, the Katana fits right under your monitor with a slimness that's unmatched by other so-called gaming "sound bars", and is powered and enhanced by our award winning multi-core audio DSP making it the world's first true Under Monitor Audio System (UMAS). In addition, the Sound BlasterX features the Aurora Reactive lighting system, a series of 49 programmable LED lights lined from edge to edge of the Katana chassis, making it the perfect addition to fully optimize and customize your PC and desktop setup.
The Katana gives you an immersive audio experience for your games and movies with the BlasterX Acoustic Engine and Dolby Digital 5.1 Decoder. This audio system embodies the perfect combination of our most powerful 24-bit high resolution DAC and sophisticated 5-driver system. Housing a tri-amplified design where the 5 drivers are individually powered by DSP-controlled amplifiers, the Katana delivers ultra-precise audio at each part of the audio spectrum. Equipped with a plethora of connectivity options, you can trust the Katana to be one of the most versatile and most powerful speakers to ever grace your desktop.

DESIGN
Under Monitor Audio System: So Sleek, Yet So Powerful
The Katana can be effortlessly tucked right under your monitors and TV. With a slim profile shorter than 60mm, this Under Monitor Audio System is drastically superior in form and function to ordinary "gaming soundbars" and is perfect for all setups, especially multi-monitor PC and/or console gaming rigs.
The chassis is exquisitely crafted and reinforced with a sturdy, brushed aluminum panel. This construction minimizes harmful vibrations that reduce clarity. Together with its clean, purposeful lines, the detail-oriented craftsmanship behind the Katana makes it a truly remarkable piece of tech and art.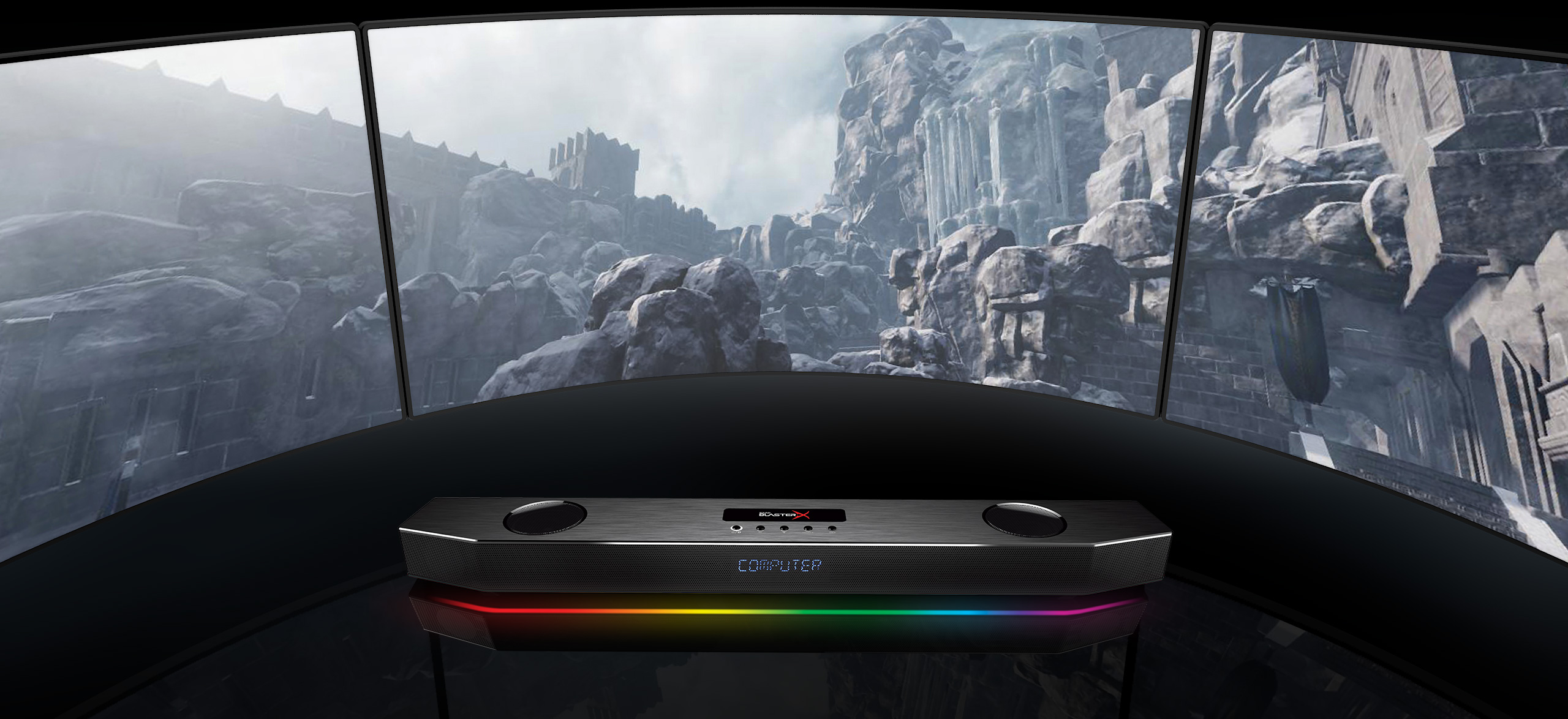 Aurora Reactive Lighting System: Light Up Your Setup
The Katana incorporates the Aurora Reactive lighting system, where its base is lined with 49 programmable LED lights from edge to edge. Just like each unique hamon of the Japanese sword, the Aurora Reactive lighting system comes in 16.8 million colours for you to customize your ambience lighting effects to create your own unique profile that elevates your gaming and movie experience.
AUDIO
5-driver Design: Expertly Tuned Acoustics
The Katana houses a 5-driver design - two up-firing midbass drivers and two high-excursion tweeters in the soundbar, and one long-throw driver in its subwoofer.
Each driver is individually chambered and powered by a DSP-controlled amplifier to deliver ultra-precise audio.
Inside the Gaming Soundbar
2.5″ (63.5mm) Upfiring Midbass Drivers
The highly efficient 2.5″ midbass drivers housed in an optimally tuned ported enclosure pump out clean, transparent midrange and dynamic midbass. Directing the audio upwards also provides for a wider soundstage that doesn't require the listener to be situated in the audio sweet spot.
1.3″ (34mm) High-excursion Tweeters
The high-frequency drivers feature inverted alloy dome diaphragms and wide polymer surrounds for low-resonant frequency and extended low-frequency response. These high-excursion tweeters allow us to cross them to the midbass at a much lower frequency than conventional tweeters, resulting in seamless driver integration and uncompromising clarity.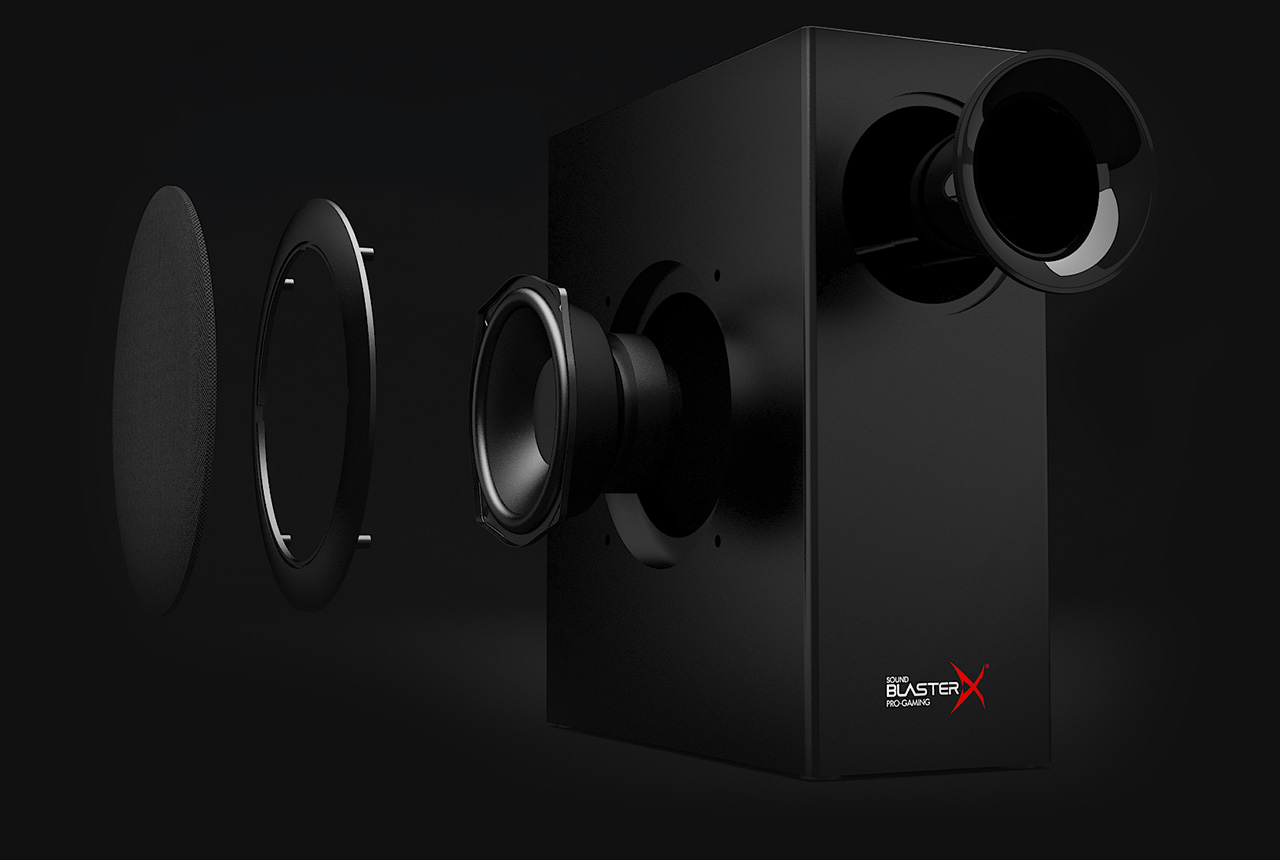 Inside the Subwoofer
5.25″ (133mm) Subwoofer Driver
The long-throw subwoofer features a super stiff paper cone and low loss surround for clean, detailed, chest-thumping bass. The driver is housed in a CARB-compliant MDF cabinet with flared port tube for laminar air flow and increased output. Experience the Katana to hear its powerful bass that reverberate through your bones.
Tri-Amplified Design: Put the Cutting Edge in Audio
The Katana utilizes a game-changing tri-amplified design with a total output of 75RMS/150W Peak Power to deliver room-filling audio, with uncompromisingly clear, high-definition, well-balanced audio and deep resonating bass. With the tri-amplified design, the amplifiers are controlled by our proprietary multi-core Digital Signal Processor (DSP) - two dedicated to driving mids, another two dedicated to deliver the high frequencies, and one dedicated to churn out heart-thumping bass. From traversing through ravines to bullet-fast evasive maneuvers, you can hear all the details that other speakers fail to deliver.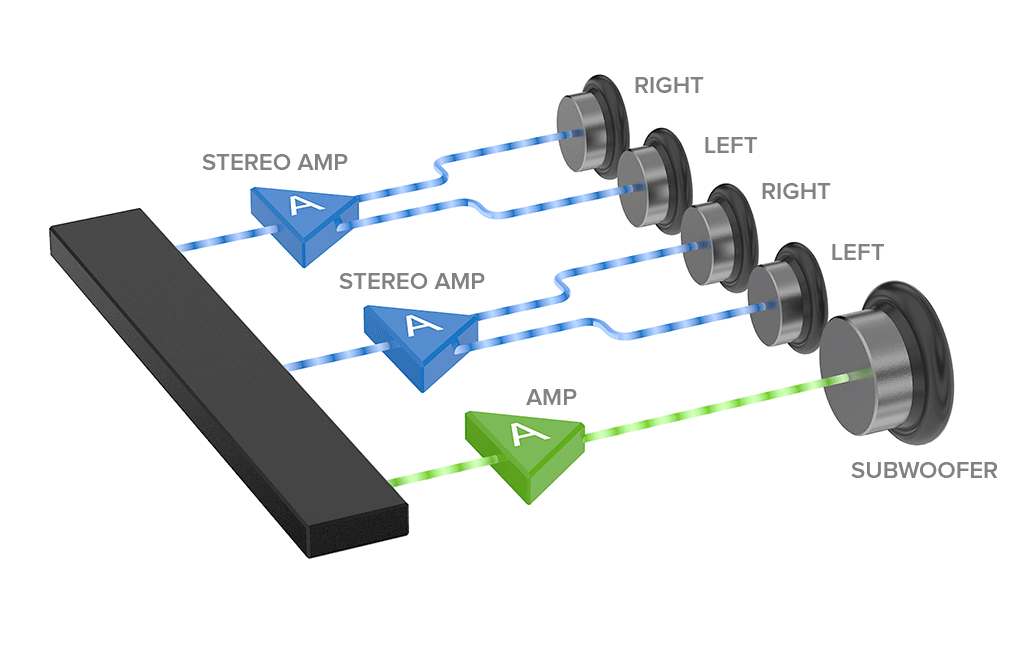 High Resolution 24-bit Audio: Immerse Yourself in Your Games and Movies
In addition to powering the tri-amplified design, the Katana features our award winning proprietary multi-core DSP that is capable of producing 24-bit high-resolution audio for lossless, crystal-clear and impressive room-filling sound. It is a certified Dolby Digital decoder that converts analog sound (stereo or 5.1) from an optical source into digital 5.1 configurations at up to 24-bit 96kHz.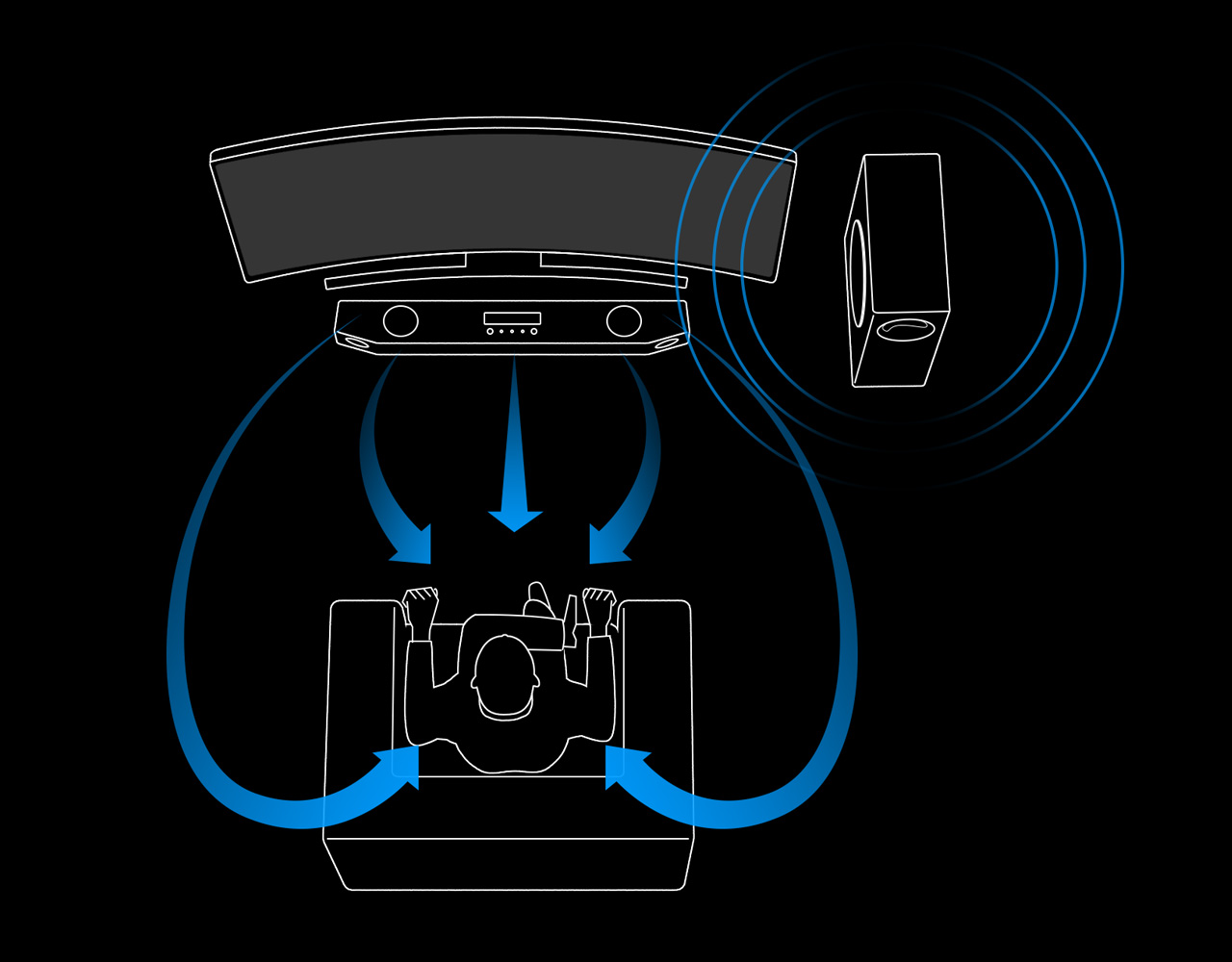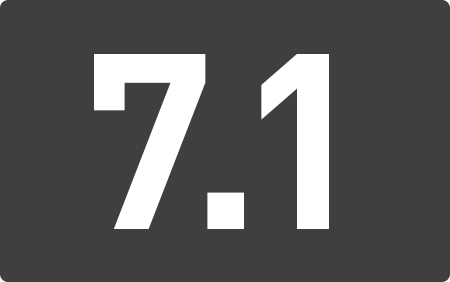 Immersive 3D PC Gaming Audio
The Katana doubles as a sound card which supports Virtual 7.1 channel1 audio input signals to deliver realistic gaming effects and audio cues with near-perfect accuracy and positioning when you hook it up via USB.
CONNECTIVITY
Comprehensive Connectivity Options
#SetupGoals are now achievable with the Katana. Comes equipped with comprehensive connectivity connections, the Katana is versatile and compatible with many multimedia devices.





Optical-in
When connected via optical-in, the Dolby Digital-certified Katana delivers realistic digital 5.1 audio, giving you the most for your console gaming and movie nights.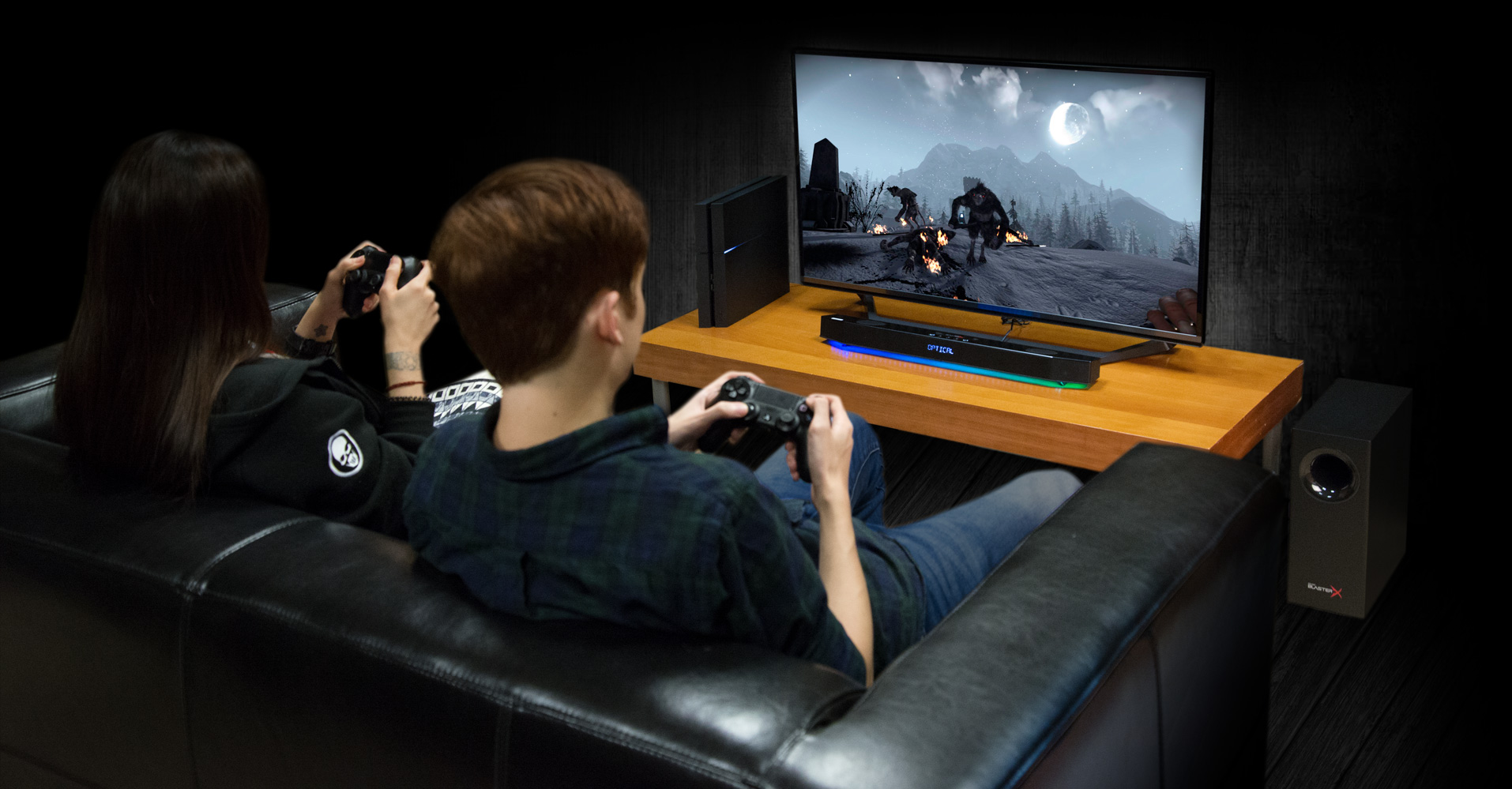 USB Audio: 7.1 Virtual Surround PC Gaming
Level up your PC gaming experience with Virtual 7.1 audio when you connect to the Katana via USB. You can also enjoy 24bit/96kHz high-resolution audio via the USB Connection.2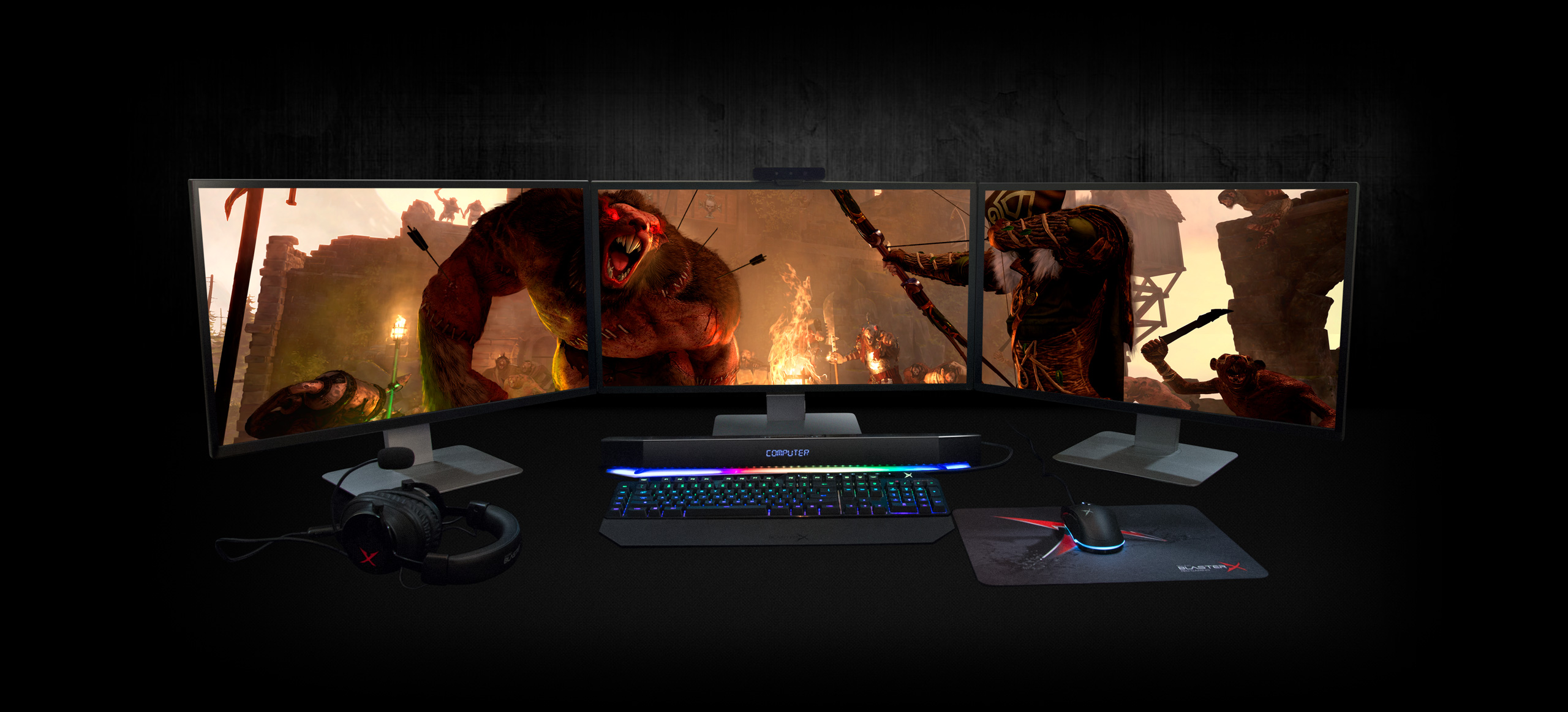 USB Flash Drive: Integrated Audio Player
Play your entire music collection3 directly from the Katana via your USB Flash Drive that contains your favorite songs and press the Play button to enjoy a fantastic listening experience. You may also refer to your playlist from the Sound Blaster Connect4.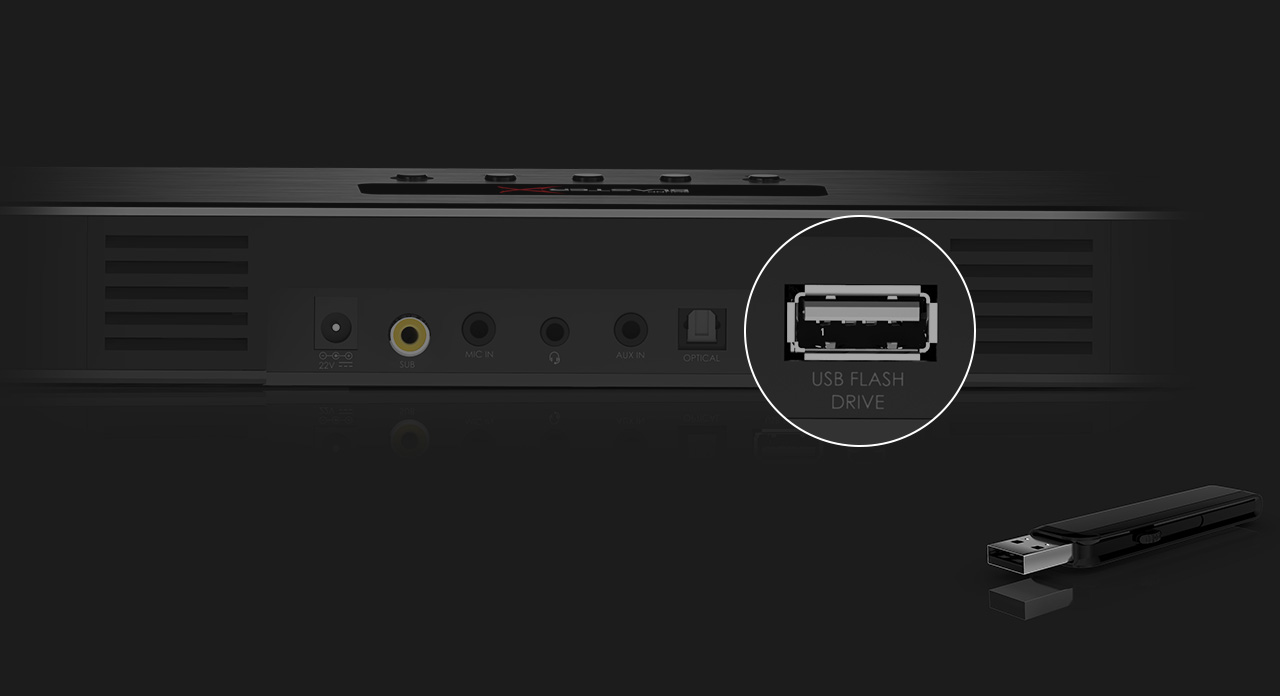 Bluetooth: Wireless
The Katana supports Bluetooth v4.2 that gives you a connecting range of up to 10 meters, so you can enjoy all the convenience for great wireless audio.

Perfect for Late Night Games
You don't have to wake up the entire house to be a late night gamer. With the headphone jack and microphone inputs, the Katana works with most headphones and headsets, so you can conveniently put your best game forward, even when everyone else is in their deep slumber.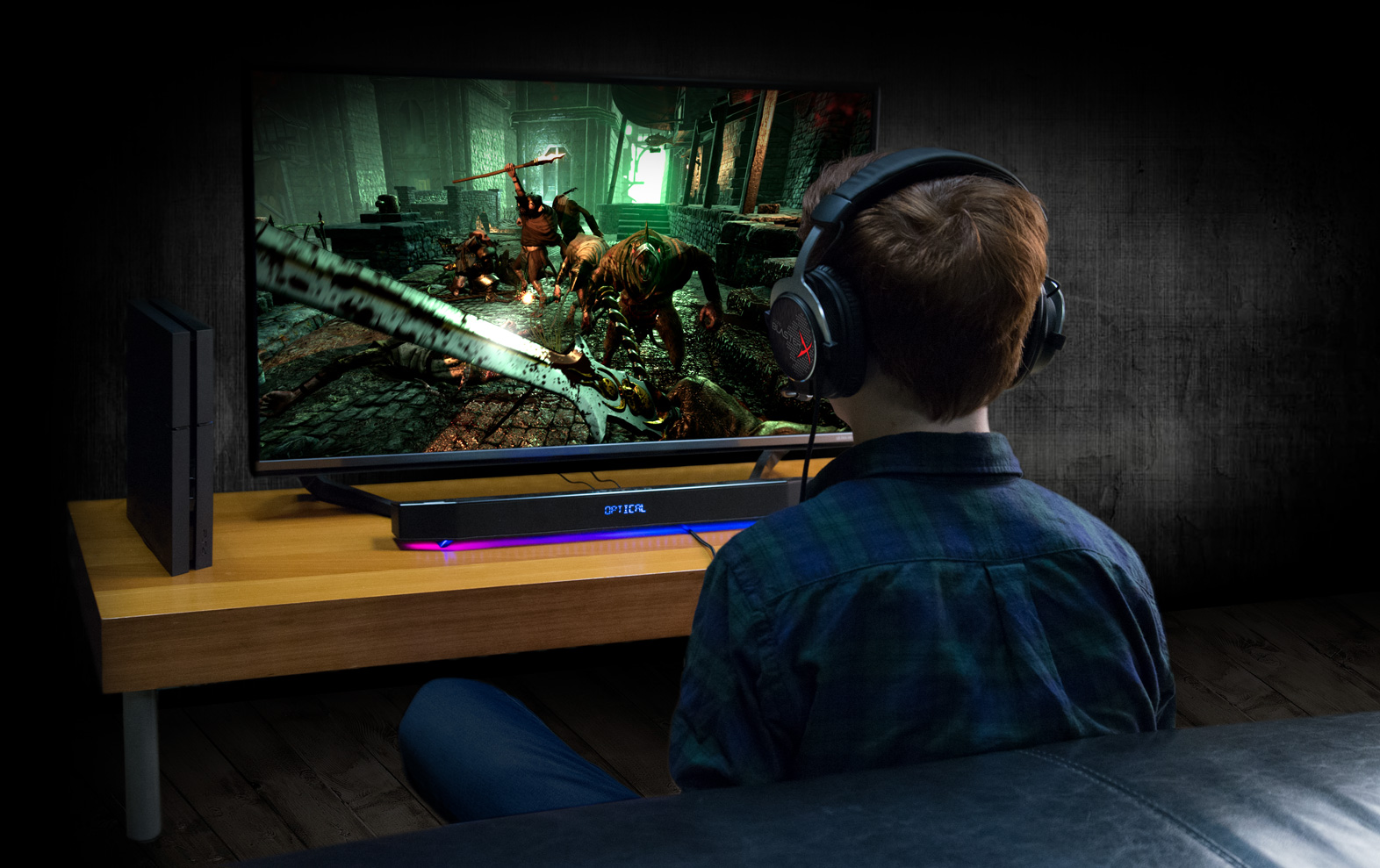 INCLUDED ACCESSORIES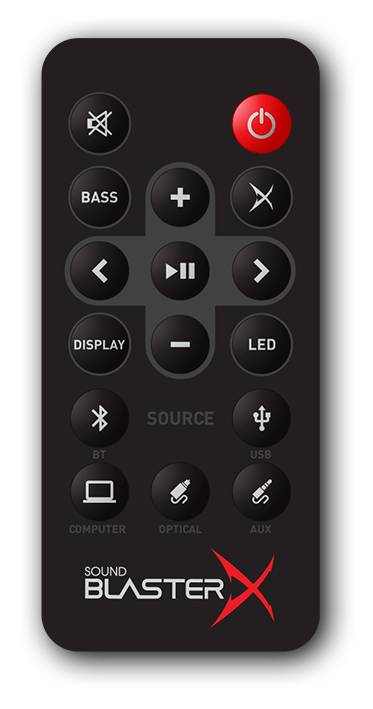 Remote Control: Wield all that power remotely
Sit back and enjoy your movie. The Katana comes with an IR Remote Control, so you can have access to all the controls at your fingertips.
1 Works for USB connection to Windows PC.
2 Available for PC and Mac.
3 Supports MP3 and WMA up to 320kbps and FLAC up to 1.3Mbps. Compatible with USB thumb drive up to 128GB formatted in FAT16/ FAT32/ exFAT. Does not support WMA Pro/Lossless.
4 Sound Blaster Connect is available on Windows OS only.
Chức năng nhận xét chưa được kích hoạt
Chức năng đánh giá chưa được kích hoạt
Bộ lọc sản phẩm
Nhà sản xuất