Công ty TNHH TMĐT Chu Vũ chuyên cung cấp Camera Sony Chính hãng giá tốt. Quý khách có nhu cầu vui lòng liên hệ: 0939 24 0939 để được tư vấn sản phẩm và giá tốt nhất tại thời điểm mua hàng.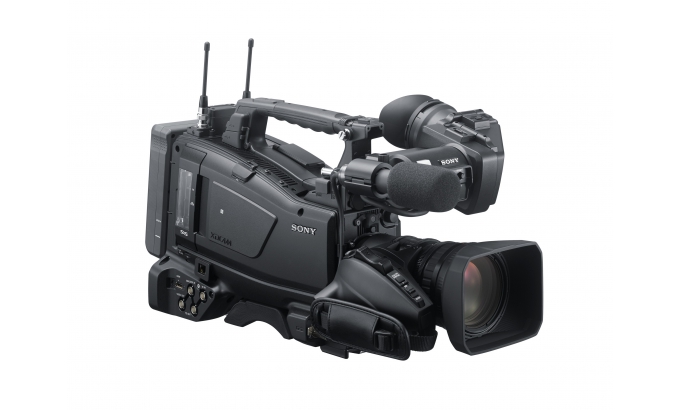 User-oriented advanced shoulder camcorder ideal for Full HD broadcast operations
The PXW-X400 is an advanced shoulder camcorder that records a variety of professional broadcast quality formats including XAVC-L at 50p and 59.94p. The camcorder offers exceptional weight balance and low power consumption alongside excellent networking features and high picture quality. The reengineered design dramatically reduces the load on the operator's right-arm. It supports Sony viewfinders including the QHD LCD CBK-VF02 and optionally available Full HD OLED HDVF-EL30 and HDVF-EL20. The camcorder also offers improved network connectivity, with built-in wireless module, embedded RJ-45 Ethernet 100B-T connector and Near Field Communication (NFC) function** for easy Wi-Fi setup and operation via a mobile or tablet with Sony's Content Browser Mobile™ application. SD or HD-SDI (up to 1.5G) input supports pool feed recording.

* The NFC function will be available in July, 2016.
Shooting in Full HD plus 4K options

The PXW-X400 supports a variety of formats including HD XAVC Intra 1080 59.94p/50p and XAVC Long GOP at 59.94p/50p. With the optional CBK-Z450UK upgrade kit, the camcorder also supports 4K QFHD as XAVC Intra and XAVC Long GOP at 50p/59.94p.

Professional features

Includes proxy data recording functions*, user menu lock*, flashband correction function*, wireless operation, picture cache recording*, built-in GPS, Digital Extender, HyperGamma, and more in addition to the variety of interfaces. The latest firmware update also gives the camera improved start-up performance and operation response.
* Requires firmware version 2.0. 1080 60i/50i proxy recording, 256Kbps streaming and hi-res file trim and transfer functions require firmware version 3.0 planned for release early 2017.

Low power and ergonomic design

Designed to minimise power consumption, while lighter lens grip reduces front weight and helps reduce the load on the right-arm.

Improves network connectivity

Connectivity features include built-in wireless module, RJ-45 Ethernet 100B-T connection and NFC function for easy Wi-Fi setup. The camcorder's SDI input allows SD-SDI or HD-SDI pool feed recording up to 1.5Gbps.

PXW-X400KC - 20X Manual Focus Lens Kit Model

Three 2/3-inch type Exmor CMOS sensors XDCAM weight-balanced advanced shoulder camcorder with improved network connectivity and low power consumption, plus 20x manual focus zoom lens kit.

The PMW-X400KC camcorder kit is supplied with a 20x manual focus zoom lens kit that includes the 3.5-inch LCD viewfinder plus short gun stereo microphone.

PXW-X400KF - 16X Auto Focus Lens Kit Model

Three 2/3-inch type Exmor CMOS sensors XDCAM weight-balanced advanced shoulder camcorder with improved network connectivity and low power consumption, plus 16x auto focus zoom lens kit*.
The camcorder is supplied with a 16x auto focus zoom lens kit that includes a 3.5-inch LCD viewfinder, plus shot gun stereo microphone.

* Requires firmware version 2.0.

PXW-X400 – customizable model

Three 2/3-inch type Exmor CMOS sensors XDCAM weight-balanced advanced shoulder camcorder with improved network connectivity and low power consumption.

This camcorder is supplied without Zoom lens , without viewfinder and microphone, allowing full customization of the camcorder.

With a selection of broadcast 2/3'' Zoom lenses , Stereo or Mono Microphones and the new HDVF-EL20 or HDVF-EL30 OLED / LCD viewfinders to match the production requirements.

TỔNG QUÁT

Trọng lượng

3.6 kg ( chỉ body)

Nguồn cung cấp

DC 12V

Định dạng ghi video

XAVC Intra (XAVC-I mode)
XAVC Long (XAVC-L 50 mode)
XAVC Long (XAVC-L 35 mode)
XAVC Long (XAVC-L 25 mode)
MPEG HD422/HD420
MPEG IMX
DVCAM

Định dạng ghi âm thanh

XAVC Intra: LPCM 24 bits, 48 kHz, 4 kênh
XAVC Long: LPCM 24 bits, 48 kHz, 4 kênh
MPEG HD422: LPCM 24 bits, 48 kHz, 4 kênh
MPEG HD: LPCM 16 bits, 48 kHz, 4 kênh
MPEG IMX: LPCM 16/24 bits, 48 kHz, 4 kênh
DVCAM: LPCM 16 bits, 48 kHz, 4 kênh

Tốc độ khung hình

XAVC Intra (XAVC-I mode):
1920 × 1080: 59.94i, 50i, 29.97p, 25p, 23.98p
1280 × 720: 59.94p, 50p
XAVC Long (XAVC-L 50 mode):
1920 × 1080: 59.94p, 50p, 59.94i, 50i, 29.97p, 25p, 23.98p
1280 × 720: 59.94p, 50p
XAVC Long (XAVC-L 35 mode):
1920 × 1080: 59.94p, 50p, 59.94i, 50i, 29.97p, 25p, 23.98p
XAVC Long (XAVC-L 25 mode):
1920 × 1080: 59.94i, 50i
MPEG HD422:
1920 × 1080: 59.94i, 50i, 29.97p, 25p, 23.98p
1280 × 720: 59.94p, 50p, 29.97p, 25p, 23.98p
MPEG HD420:
1920 × 1080: 59.94i, 50i, 29.97p, 25p, 23.98p
1440 × 1080: 59.94i, 50i
1280 × 720: 59.94p, 50p
MPEG IMX: *2
720 × 486: 59.94i
720 × 576: 50i
DVCAM:
720 × 480: 59.94i
720 × 576: 50i

ỐNG KÍNH

CHỈ CÓ TRÊN MÁY PXW-X400KF, PXW-X400KC

Loại ống kính

Sony 2/3-inch type bayonet mount

Tỉ số zoom

PXW-X400KC: 20x
PXW-X400KF: 16x

Chiều dài tiêu cự

PXW-X400KC: f = 8.2 - 164 mm
PXW-X400KF: f = 8 - 128 mm

Khẩu độ - Iris

F1.9 - F16, auto/manual

Chế độ lấy nét

PXW-X400KC: bằng tay hoàn toàn
PXW-X400KF: tùy chọn AF/MF/Full MF

Ổn định hình ảnh

N/A

Đường kính kính lọc

82 mm

MÁY QUAY

Loại cảm biến

3-chip 2/3-type "Exmor" Full HD CMOS

Bộ lọc tích hợp (ND Fillter)

1: Clear, 2: 1/4ND, 3: 1/16ND, 4: 1/64ND

Độ sáng tối thiểu

0.013 lx (F1.4, +42 dB, 16-frame accumulation)

Chức năng Slow & Quick (S&Q)

720p: Frame rate 1 fps tới 60 fps
1080p: Frame rate 1 fps tới 60 fps

Độ lợi - Gain

-3, 0, 3, 6, 9, 12, 18, 24, 30, 36, 42 dB

Chức năng mạng không dây

Có, USB wireless LAN module (IFU-WLM3)
Ngõ Ethernet: RJ-45 (x1): truyền dẫn có dây

Tích hợp đèn LED

N/A

NGÕ VÀO/RA

Ngõ vào

XLR (Audio), Timecode (BNC), Genlock (BNC)

Ngõ ra

HDMI, 3G HD/1.5G HD/SD (BNC), Video (BNC), USB

ỐNG NGẮM

Ống ngắm.

PXW-X400: tùy chọn
PXW-X400KC/PXW-X400KF: 3.5-inch color LCD, 960 (H) x 540 (V), Quarter HD Size

Màn hình LCD

3.5-inch LCD

THÔNG SỐ PHẦN MICRO

Micro tích hợp

Stereo microphone Chỉ có trên máy PXW-X400KF,
PXW-X400KC

PHƯƠNG TIỆN LƯU TRỮ

Loại lưu trữ

SxS (Express Card/34), 2 khe thẻ nhớ.
XQD card (với XQD ExpressCard Adapter, QDA-EX1)
SDXC card (với XQD ExpressCard Adapter, MEAD-SD02)

PHỤ KIỆN

Phụ kiện kèm theo

Shoulder strap (1)
*PXW-X400KF/PXW-X400KC Only : Viewfinder (1)
PXW-X400KF/PXW-X400KC Only : Stereo microphone (1)
PXW-X400KF/PXW-X400KC Only : Wind-screen (1)
Cold shoe kit (1)
PXW-X400KF/PXW-X400KC Only : Lens mount cap (1)
PXW-X400KF/PXW-X400KC Only : Flange back adjustment chart (1)
PXW-X400KF/PXW-X400KC Only : Auto focus lens (1)
PXW-X400KF/PXW-X400KC Only : Manual focus lens (1)
Operation Guide (1)
Operation Manual (CD-ROM) (1)
USB wireless LAN module (IFU-WLM3) (1)
Chức năng nhận xét chưa được kích hoạt
Chức năng đánh giá chưa được kích hoạt
Bộ lọc sản phẩm
Nhà sản xuất