Công ty TNHH TMĐT Chu Vũ chuyên cung cấp Camera Sony Chính hãng giá tốt. Quý khách có nhu cầu vui lòng liên hệ: 0939 24 0939 để được tư vấn sản phẩm và giá tốt nhất tại thời điểm mua hàng.
Camera Sony PXW-FS5K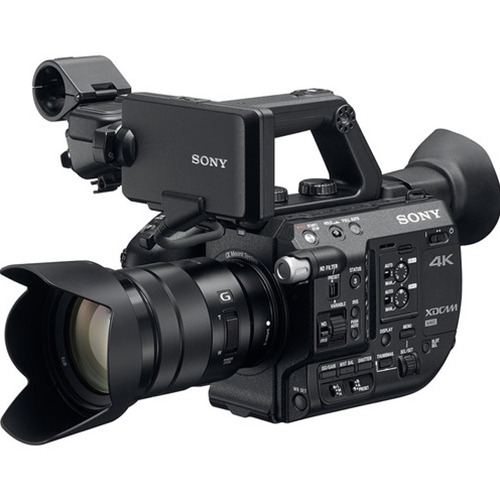 A handheld camera should be able to get you into tight places. To work in your lap. To move with the talent. To shoot high and low angles with equal agility. And a handheld camera should function beautifully against your chest or shoulder, comfortably steadied by your right hand with all the controls at your fingertips. Sony's extraordinary PXW-FS5 does all of this, and more.
General Specifications
Detail:
Battery Operating Time
With battery pack BP-U90: approx. 6 hours, 50 minutes. (While recording with LCD On, EVF Off when the external device connector is not used.)
With battery pack BP-U60: approx. 4 hours, 20 minutes. (While recording with LCD On, EVF Off when the external device connector is not used.) With battery pack BP-U30: approx. 2 hours, 10 minutes (While recording with LCD On, EVF Off when the external device connector is not used.)
Dimensions (W x H x D)
Approx. 4 1/2 x 5 1/8 x 6 7/8 inches (Body only including the projecting parts)
Approx. 7 3/8 x 8 5/8 x 14 5/8 inches
(with SELP18105G and lens hood[optional], large eyecup, LCD viewfinder, handle, grip w/o grip belt and the projecting parts)
Mass
Approx. 1lb 13.2 oz (Body only)
Approx. 4lb 14.5 oz (with SELP18105G and lens hood[optional], battery pack BP-U30, large eyecup, LCD viewfinder, handle, grip w/o gripbelt)
Operating Temperature
32°F to 104°F
Power Consumption
Approx. 11.5W (while recording with LCD Off, EVF On when the external device connector is not used.)
Approx. 12.3W (while recording with LCD On, EVF On when the external device connector is used.)
Power Requirements
DC 14.4V (battery pack)
DC 12.0V (AC adaptor)
Recording Format
Video: XAVC QFHD : MPEG-4 AVC/H.264 4:2:0 Long profile
Video: XAVC HD : MPEG-4 AVC/H.264 4:2:2 Long profile
Video: AVCHD : MPEG-4 AVC/H.264 AVCHD 2.0 format compatible
Audio:AVC : Linear PCM 2ch, 24bit, 48kHz
Audio: AVCHD : Linear PCM 2ch, 16bit, 48kHz / Dolby Digital 2ch, 16bit, 48kHz
Recording Frame Rate
XAVC QFHD (3840 x 2160) @29.97p, 25p, 23.98p 100Mbps/60Mbps
XAVC HD (1920 x 1080) @59.94p, 50p, 50Mbps/35Mbps
XAVC HD (1920 x 1080)@59.94i, 50i, 50Mbps/35Mbps/25Mbps
XAVC HD (1920 x 1080)@29.97p, 25p, 23.98p, 50Mbps/35Mbps
XAVC HD (1280 x 720)@59.94p, 50p, 50Mbps
AVCHD (1920 x 1080)@59.94p, 50p, PS mode(28Mbps)
AVCHD (1920 x 1080) @59.94i/50i/29.97p/25p/23.98p,
FX mode (24Mbps)
FH mode(17Mbps)
AVCHD (1280 x 720)@59.94p, 50p,
FX mode(24Mbps)
FH mode(17Mbps)
HQ mode(9Mbps)
Recording/Playback Time
XAVC-L QFHD 100 mode Approx. 65 min with 64 GB memory card
XAVC-L QFHD 60 mode Approx. 100 min with 64 GB memory card
XAVC-L HD 50 mode Approx. 120 min with 64 GB memory card
XAVC-L HD 35 mode Approx. 170 min with 64 GB memory card
XAVC-L HD 25 mode Approx. 220 min with 64 GB memory card
AVCHD@LPCM 2ch PS Mode Approx. 290 min with 64 GB memory card Approx. 145 min with 32 GB memory card
AVCHD@LPCM 2ch FX Mode Approx. 340 min with 64 GB memory card Approx. 170 min with 32 GB memory card
AVCHD@LPCM 2ch FH Mode Approx. 450 min with 64 GB memory card Approx. 225 min with 32 GB memory card
AVCHD@LPCM 2ch HQ Mode Approx. 590 min with 64 GB memory card Approx. 290 min with 32 GB memory card
Storage Temperature
-4°F to +140°F
Inputs/Outputs Specifications
Detail:
Audio Input
XLR-type 3-pin (female) (x2), line/mic/mic +48 V selectable
Audio Output
Integrated into Multi/Micro USB jack
DC Input
DC jack
DC Output
No
EXT 50-pin
No
HDMI Output
HDMI connector (Type A)
Headphone Output
Stereo mini mini jack (x1)
Remote
Stereo mini-minijack (Φ2.5 mm)
SDI Output
BNC type (x1), SD/HD/3G(Level-B) selectable
SMTPE 259M/292M/424M/425M standards
Speaker Output
Monaural
USB
Multi/Micro USB jack (x1)
Video Output
Integrated into Multi/Micro USB jack
Composite
1.0Vp-p、75Ω
i.LINK
No
| Lens Specifications | Detail: |
| --- | --- |
| Lens Mount | E-mount |
| Monitoring Specifications | Detail: |
| --- | --- |
| Built-in LCD Monitor | 3.5 inch type Approx. 1.56M dots |
| Viewfinder | 0.39 inch type OLED Approx. 1.44M dots |
Chức năng nhận xét chưa được kích hoạt
Chức năng đánh giá chưa được kích hoạt
Bộ lọc sản phẩm
Nhà sản xuất