Công ty Điện Tử Chu Vũ chuyên cung cấp sản phẩm Creative Sound Blaster Z bảo hành 12 tháng full box, mới 100% giá rẻ tại TPHCM.
Creative Sound Blaster Z biến máy PC của bạn thành một hệ thống giải trí 5.1.
Creative Sound Blaster Z hàng luôn có sẵn trong kho, số lượng không giới hạn, giao hàng ngay. Các anh chị em tha hồ lựa chọn tùy mẫu thích, không cần phải đợi lâu.

Công ty cam kết giao hàng và lắp đặt Creative Sound Blaster Z tận nơi cho khách hàng tại TP.HCM. Creative Sound Blaster Z hỗ trợ kỹ thuật tận nơi trong thời gian bảo hành 12 tháng .
Bạn đang cần một cái sound card thật dễ thương, nhỏ gọn để nghe nhạc và dễ dàng di chuyển, nhưng vẫn phải đảm bảo chất lượng âm thanh cực chuẩn?
Vậy thì đây, sản phẩm Creative Sound Blaster Z mà Chu Vũ giới thiệu lần này sẽ cho bạn sống trọn vẹn trong thế giới âm nhạc đỉnh cao. Giá chỉ còn 2.890.000 đồng , Creative Sound Blaster Z ưu đãi với giá gốc, thật quá tuyệt vời, phải không nào?

Designed around the powerful Sound Core3D™ audio processor, the Sound Blaster Z series once again raises the bar for the industry standard of PCIe sound cards. Sound Blaster Z has been designed to meet the standards of those who want a vastly superior experience over motherboard audio. With external DACs delivering 116dB SNR, a 600 ohm audiophile-grade headphone amp, and massively customizable SBX Pro Studio technologies, Sound Blaster Z packs a serious audio punch.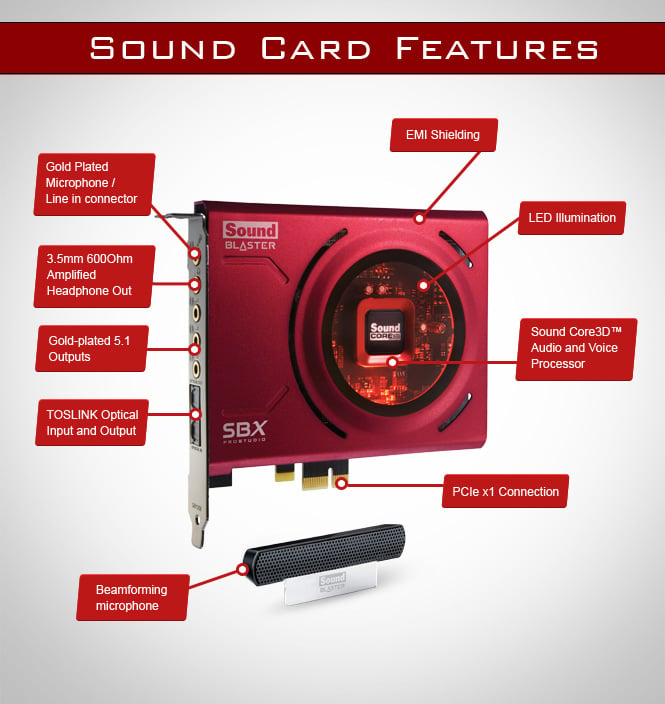 An ideal all-round audio & gaming solution
116dB Signal-to-Noise Ratio
A signal to noise ratio or SNR of 116dB means your audio will be more than 99.99% pristine, which is over 35.4 times better than motherboard audio.
SBX Pro Studio™ technologies
SBX Pro Studio™ sound technologies create unprecedented levels of audio realism, including stunning 3D surround effects for your speakers and headsets.
Crystal clear
communication
In gaming, if you're not communicating, you're not winning. Experience crystal clear communication with your teammates with the CrystalVoice™ suite of technologies that removes echoes, ambient noises and picks up your voice from within a zone (Voice Focus). It also maintains your voice level even if you are near or further away from the microphone.
Sound Blaster Beamforming Microphone
When used with CrystalVoice Focus, the bundled beamforming microphone creates an acoustic zone and suppresses noise outside it, enabling you to be heard with amazing clarity.
Sound Core3D audio processor
The multi-core Sound Core3D™ audio processor is designed to offload SBX Pro Studio and CrystalVoice effects processing from your primary CPU, improving your overall PC performance, resulting in drastically superior audio and voice quality.
Pristine audio recordings with ultra low latency
Enjoy reduced latency with Audio Stream Input/Output (ASIO) support with the Sound Blaster Z. Hear your audio recordings come to life!
24-bit / 192kHz audio output
Stereo Direct lets you listen to your music pure and unprocessed at the amazing bit rate of 24-bit 192 kHz.
High fidelity multi-channel surround
Connect to your home theatre system through a single digital cable and enjoy cinematic DVD movies by transforming any stereo or multi-channel streams into high fidelity immersive surround sound.
Never unplug your headphones again
With the Sound Blaster Z-series Control Panel, just toggle between your headphone and speaker system with a flip of a switch.
General
Audio Processor: Sound Core3D
SBX Pro Studio: Yes
Max. Playback Quality: 24-bit / 192kHz (Stereo-Direct Mode)
24-bit / 96kHz (5.1)
Max. Recording Quality: 24-bit / 96kHz
Output: 5.1 Channels
Included Accessories: Sound Blaster Beamforming Microphone
Key Features
Signal-to-Noise Ratio (SNR): 116dB
Upmixing of Stereo to Multi-channels: Yes
Connectivity Options (Main)
Headphone:
1 x Amplified 3.5mm jack
Speaker Out:
3 x 3.5mm jacks (Front, Rear, C/Sub)
Line / Mic In:
1 x 3.5mm jack
Optical Out:
1 x TOSLINK
Optical In:
1 x TOSLINK
CrystalVoice: Yes
Scout Mode: Yes
Headphone Amp: Up to 600 Ohms
EAX: EAX Advanced 5.0
DTS Connect Encoding: Yes
Dolby Digital Live Encoding: Yes
Audio Fidelity: Up to 24-bit / 192kHz
Software & Compatibility
Supported Operating Systems: Windows® 8, Windows® 7
Compatible Platform: PC - PCIe x1
Microphone
Microphone Type: Dual-array Noise Canceling Condenser
Beamforming: Yes
Frequency Response: 100Hz to 20kHz
Sensitivity-37dB
Additional Features
ASIO: ASIO 2.0
Recommended Usage
Gaming: Yes
Home Entertainment: Yes
ĐÓNG GÓI
Sound Blaster Z sound card
Sound Blaster Beamforming Microphone
Quick Start leaflet
Installation CD containing:
Drivers for Windows®
Creative software suite
User's Guide
Chức năng nhận xét chưa được kích hoạt
Chức năng đánh giá chưa được kích hoạt
Bộ lọc sản phẩm
Nhà sản xuất