Sound Blaster X7
High Resolution USB DAC 600 Ohm Desktop Amplifier with Bluetooth®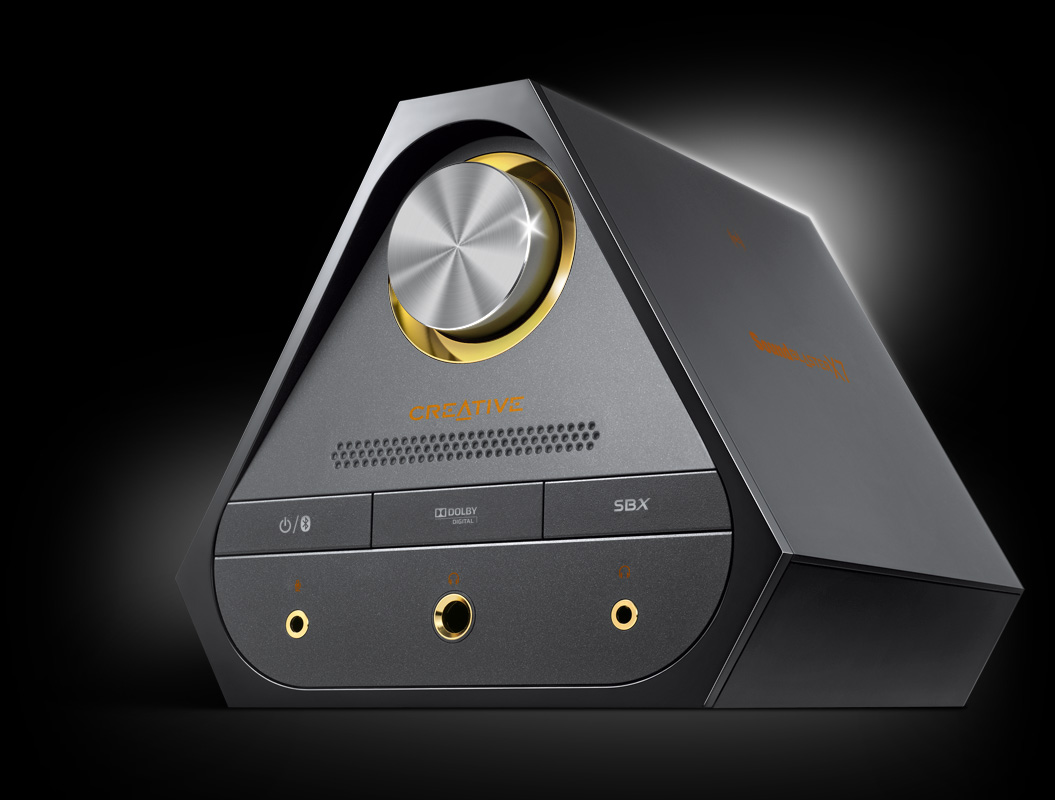 FEATURES
OVERVIEW
The Sound Blaster X7 is the ultimate upgrade for pro-gamers and audio enthusiasts. This feature-packed ultra High Resolution Audio (HRA) device acts as an external USB DAC and a powerful audio amplifier with low-latency Bluetooth® connectivity and Dolby Digital decoder.

Unleashing the BIGGEST, BADDEST, BOLDEST Sound Blaster
Created to provide only the best audio experience for gamers and audiophiles alike, the Sound Blaster X7 incorporates Creative's renowned audio processing technologies with the finest audiophile-grade components and specifications in a compact enclosure.
BIGGEST array of features for any Sound Blaster, including an unprecedented kickass built-in power amplifier, cross-platform connectivity, and Sound Blaster intelligent audio enhancement technologies.
BADDEST player in the arena of entertainment audio - with only the finest of the finest audiophile-grade components that deliver the absolute best audio performance. Get the best of the best - state of the art "Fine Gold" capacitors just to squeeze out that last drop of performance on top of the already superb audio quality. Indulge yourself with swappable op-amps to gratify your inner connoisseur for exquisite tonal characteristics.
BOLDEST - Dare to overcome mountains of obstacles to create an ultra premium audiophile-grade device and fuse it with such a mind-blowing list of features; and then compress all of it into one stylish compact trapezoidal prism that can be easily connected to the PC and just about anything else.
Many Features, One Sound Blaster X7
The Sound Blaster X7 is built to connect to most of your various audio components, with many connectivity options built into one little attractive box.
ACCOLADES
It's Good To Be Recognized
We are delighted that the Sound Blaster X7 has been named as the Honouree for two distinguished 2015 CES Innovations Awards namely the 'Home Audio/Video Components and Accessories' category and 'Computer Hardware and Components' category.
Every year, a small percentage of products is given the honour of receiving these awards, for having attained outstanding results across all judging criteria.
The Sound Blaster X7 was also awarded Tom's Hardware's Top Pick for 2015. This award gives recognition to devices in the name of innovation and excellence of the development that surpasses other consumer electronic products this year.

AUDIO PERFORMANCE
Ultra High Fidelity Digital Audio Superhighway
Just as HDTV allows you to see more details in your movies and TV shows, high-resolution audio allows you to hear more details and nuances during audio playback, be it games, movies or music.
The Sound Blaster X7 provides a smooth digital audio superhighway that preserves audio fidelity starting from the original uncompressed audio file on your PC/Mac; through a high-speed USB 2.0 digital audio path, to a high-resolution 24-bit 192kHz 127dB DAC, immediately coupled to a powerful 100W built-in amplifier.
Finally, the journey ends at your favorite passive speakers, bringing to you an unadulterated, high-quality audio experience.
Game, Be Impressed
Powerful and immersive audio can put you right in your game. Sound Blaster X7 is just that and more. It is designed to work in harmony with today's consoles such as the PlayStation 4 and the XboX One. Usher in a new era of audio entertainment for your console gaming like never before.

Knock-out Quality DAC
The Sound Blaster X7 features a Burr-Brown PCM1794 127dB digital-to-analog converter (DAC) which supports high-resolution audio playback of up to 24-bit 192kHz when connected to PC/Mac, including 24-bit 88.2kHz and 24-bit 176.4kHz. Coupled with a built-in Dolby Digital decoder, the Sound Blaster X7 lets you experience cinematic true-to-life 5.1 channel playback.
Class-Leading Headphone Amplifier
To provide an outstanding headphone listening experience, a top-of-the-range Texas Instruments TPA6120A2 headphone amplifier chip is used. Capable of driving high-end 600Ω headphones, the Sound Blaster X7 — together with its 127dB 24-bit 192kHz DAC — delivers powerful and pristine audio.
Say goodbye to days of lacklustre audio playback through your headphones.
Top Notch Audiophile-grade Components
The Sound Blaster X7 Limited Edition is equipped with class Nichicon "Fine Gold" capacitors. No effort was spared in the selection of the finest audiophile grade components to complement our renowned in-house audio technologies.
Sound Blaster X7 Limited Edition is a highly customizable audio device that features the option to swap op-amps. Op-amps play a key role in amplifying the delicate analogue signals, thus influencing the overall texture of your listening experience. For a personalised touch, discerning ears would be pleased to know that they can swap the op-amps (available separately) for a tonal characteristic of their choice.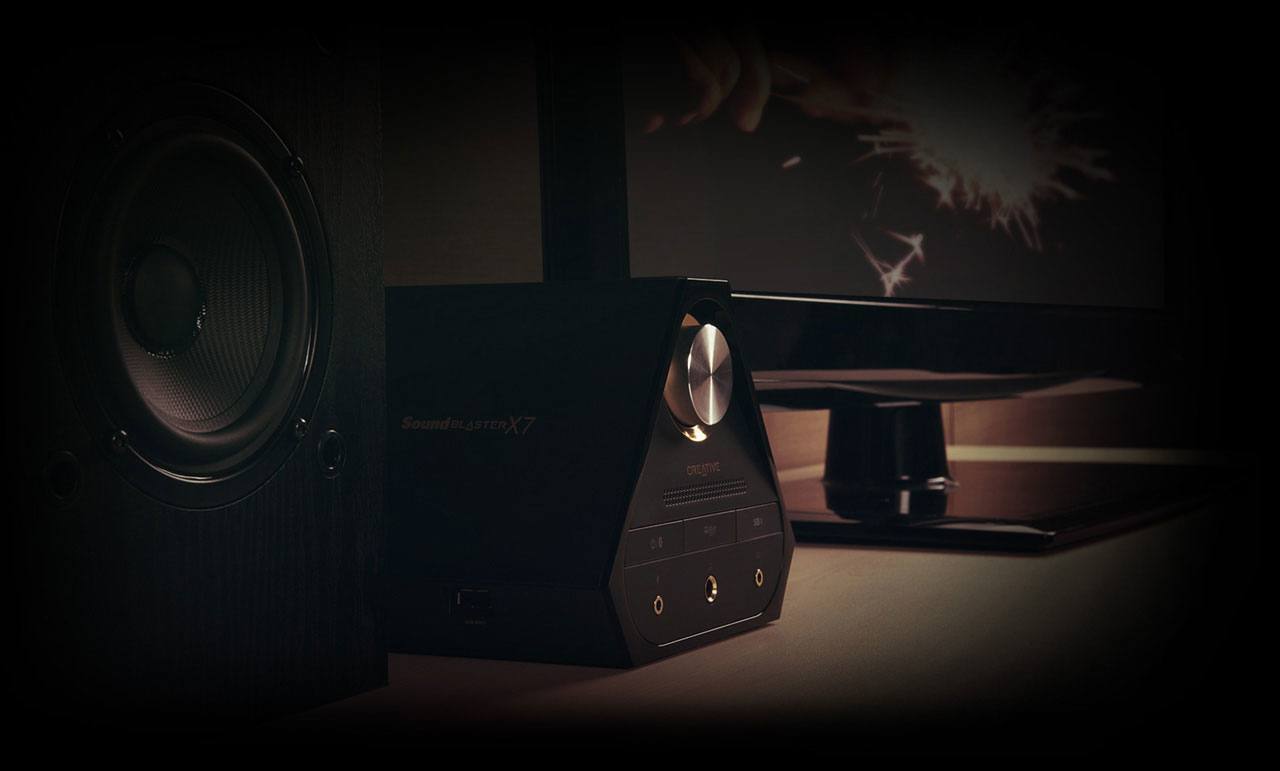 Kickass 100W* Stereo Amplifier
A high power, high efficiency Class-D digital amplifier TPA3116D2 delivers up to 100W power (2 x 50W @ 4Ω*), allowing you to connect to passive bookshelf or tower speakers. The Sound Blaster X7 features an impedance switch to select between 4Ω and 8Ω to match your speakers to deliver the best audio performance.
* Requires upgrade to high-power adapter (24V 6A)
Bit-perfect Playback
ASIO support allows for reduced latency for a higher resolution audio experience.
Utmost Audio Fidelity
Connect your iOS or Android device with a USB cable via the USB Host port, which allows the Sound Blaster X7 to process the digital audio signal without any degradation in quality and fidelity.
Click here for phone models that are compatible with this feature.
TECHNOLOGY
24-bit Sound Blaster Audio Processor
The Sound Blaster X7 features the SB-Axx1™ multi-core Digital Signal Processor (DSP) which is capable of voice processing, audio restoration, proprietary effects processing and is also a certified Dolby Digital 5.1 decoder.
It has a special patented EMU32 bus capable of processing up to 32 concurrent audio streams. This allows the Sound Blaster X7 to handle multiple audio inputs and outputs.
In addition, a proprietary audio chip helps the Sound Blaster X7 achieve audiophile-grade audio playback from stereo to 5.1 configurations at up to 24-bit 192kHz.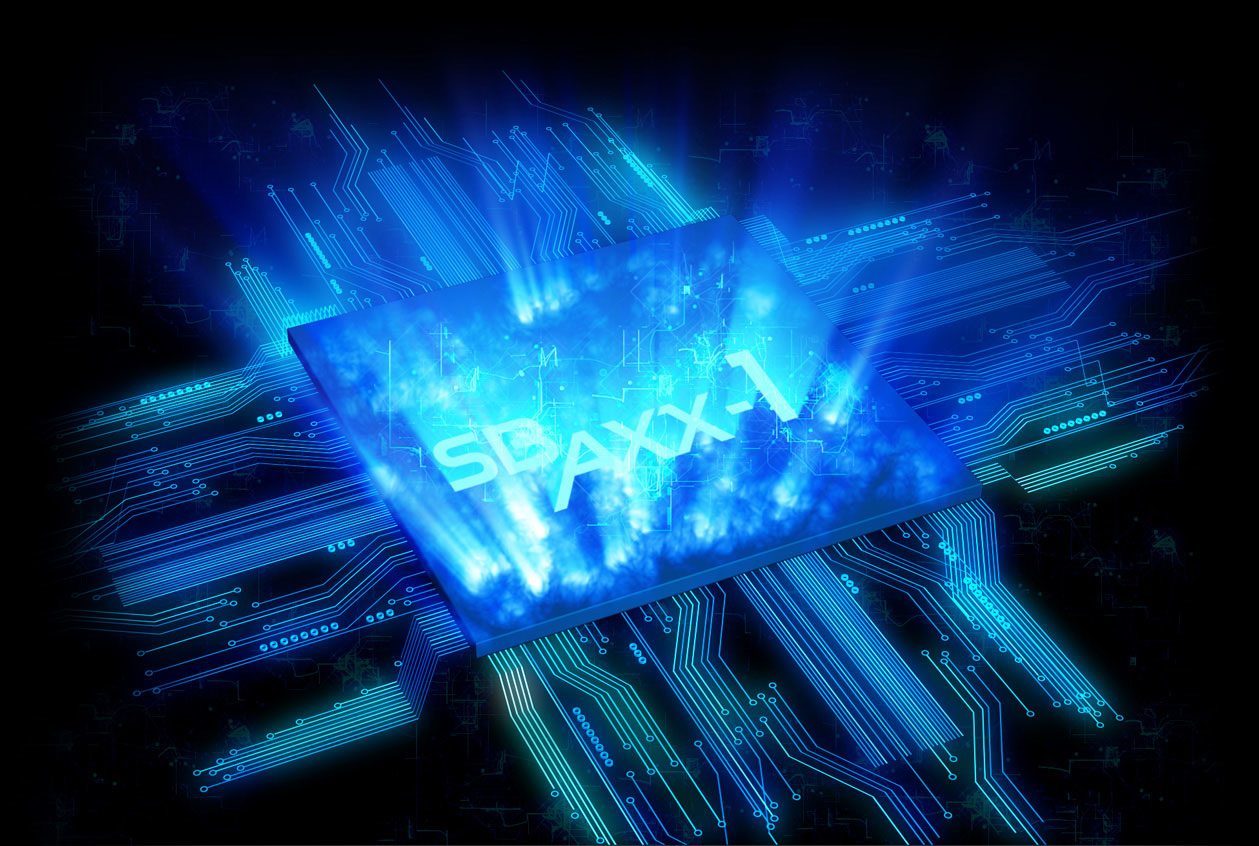 Experience 5.1 Surround, with Dolby Digital Decoding
The Sound Blaster X7 supports Dolby Digital, an audio compression found in most DVDs and high-quality formats worldwide. It enables delivery of 5.1 discrete channels at low data rates. Be sure to experience crisp, clean dialogue and accurate placement of onscreen sounds.
The Unfair Advantage
Scout mode™ allows you to hear your enemies from a distance, thus equipping you with a distinct tactical advantage in combat. Win each and every battle!

Crystal Clear Communication, with CrystalVoice™
Enjoy VOIP or conference calls with the utmost clarity.
Built into the front panel of the Sound Blaster X7 are two beamforming microphones which support pristine audio recordings and even voice calls when connected to PCs, Macs, smartphones and tablets.
CrystalVoice™ features innovative technologies that are specially designed to deliver the best vocal fidelity, so that you'll always be heard clearly in video conferencing, multiplayer games and online chats.
Click here to learn more about CrystalVoice Technologies.
CONNECTIVITY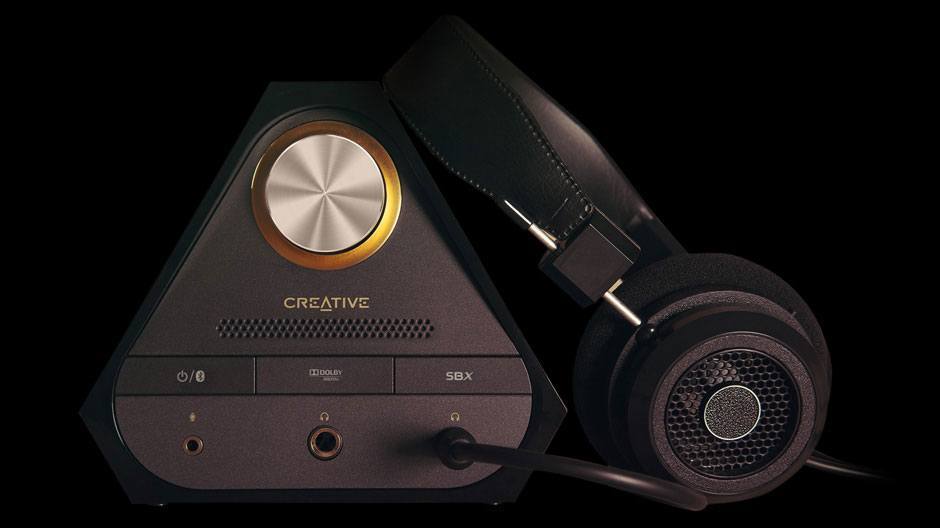 Dual Headphone Outputs
Dual headphone outputs allow you to share your favourite tunes with your loved ones simultaneously!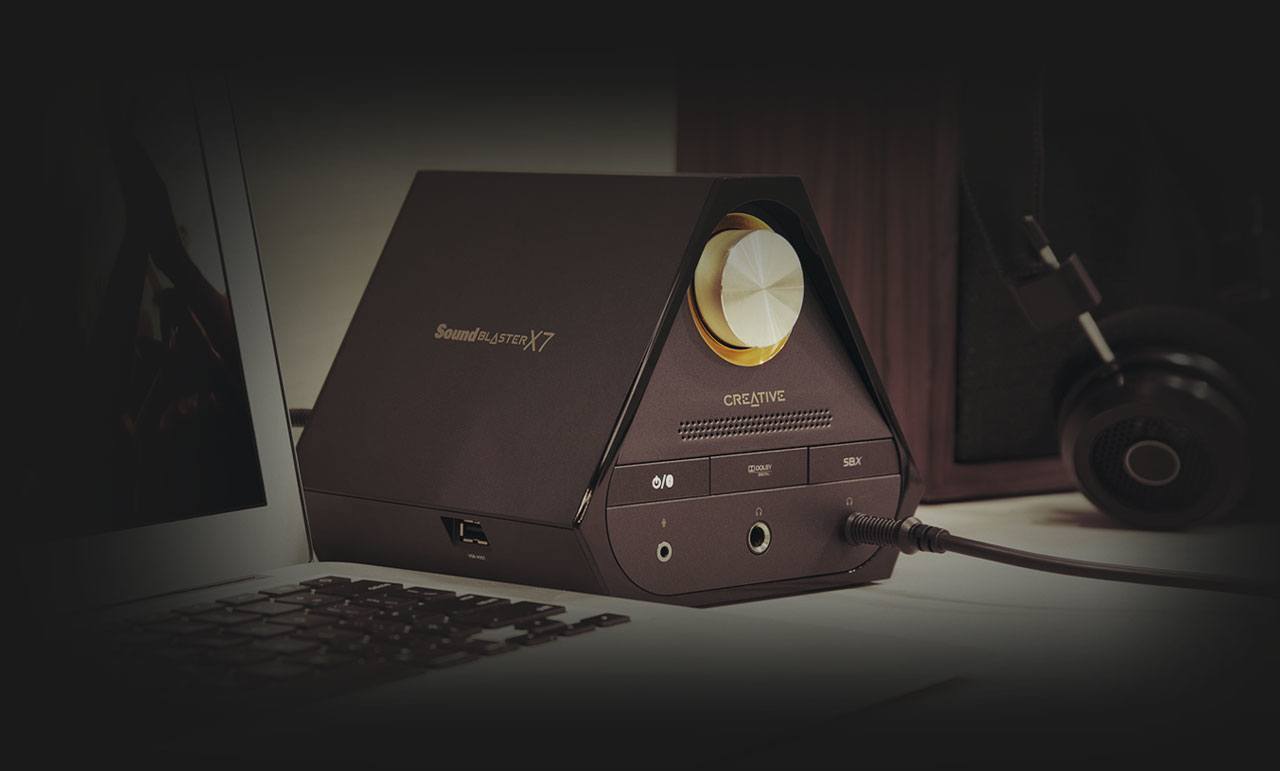 Low Latency Wireless Audio, via Bluetooth® 4.1
The Sound Blaster X7 offers Bluetooth 4.1 with aptX® Low Latency and AAC codec support, letting you stream audio wirelessly and yet still maintain the fidelity of your music.
aptX with Low Latency support allows you to watch movies and play games via your wireless devices, while ensuring audio synchronization.
Multiple Options to Connect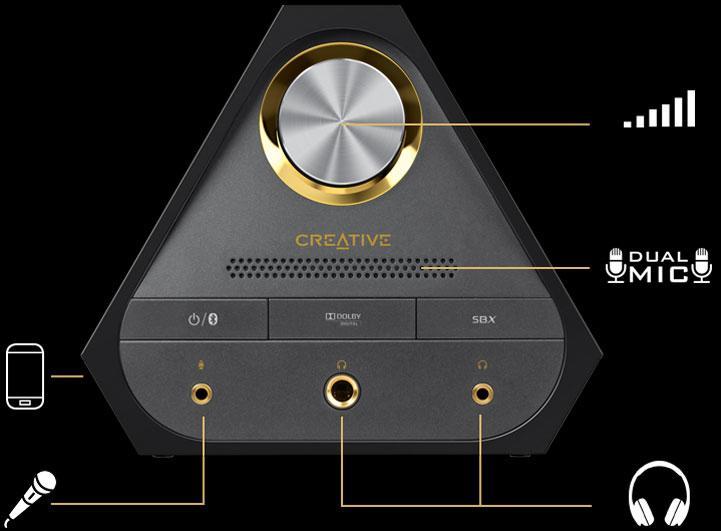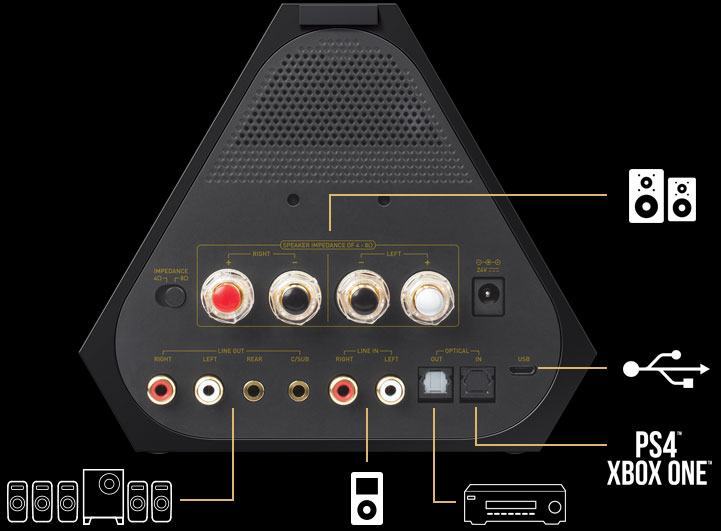 SOFTWARE
Personalize Your Audio
The Sound Blaster X7 comes with nifty software that functions as your personal sound controller, on your desktop, notebook, tablet or smart device. Introducing the Sound Blaster X7 Control App and the Sound Blaster X7 Control software.
Adjust the level of surround to a level you enjoy, or bass till your headphone rumbles. It's all up to you, with SBX Pro Studio Technology.
Trying to optimise your speaker set-up. Simply adjust the speakers' layout as you see fit.
The Sound Blaster X7 Control software allows convenient switch between speakers and headphones with just a click. No more struggling to plug and unplug between speaker and headphone jacks!
SPECIFICATIONS
Audio Technology

SB-Axx1™
Signal-to-Noise Ratio (SNR)

127dB (DAC)
Connectivity Options (Main)

Microphone :
Built-in Stereo Mic
1 x 1/8" (3.5mm) Mic In
Line / Optical :
1 x RCA Aux/Line In
1 x TOSLINK Optical In
1 x TOSLINK Optical Out
Speaker :
2 x Binding Post Passive Speaker Out (L/R)
1 x 1/8" (3.5mm) Rear Speaker Out
1 x 1/8" (3.5mm) Center/Sub Speaker Out
1 x RCA Line/Front Speaker Out
Headphone :
1 x 1/8" (3.5mm)Headphone Out
1 x 1/4" (6.3mm)Headphone Out
USB HOST :
1 x Type A USB Host Port - Device Audio Stream & Charging
microUSB
Max Channel Output

Stereo Amplified, 5.1 Channels
Audio Technologies

CrystalVoice
Microphone

Microphone Type : Dual-array Noise Canceling Condenser
Supported Operating Systems

Windows® 8, Windows® 7, Mac OS X v10.6.8 and above, Windows Vista®, Windows® 10, Windows® 8.1
Audio Fidelity

Up to 24-bit / 192kHz
Included Accessories

Headphone Stand
Dimensions

130.0 x 150.0 x 147.0 mm (5.1" x 5.9" x 5.8")
ASIO

Playback & Recording
Platform

USB 2.0, Bluetooth, USB 1.1, USB 3.0, Line-In
Recommended Usage

Gaming
SYSTEM REQUIREMENTS
Windows
Intel® Core™2 Duo or AMD® equivalent processor (2.8 GHz or faster recommended)
Intel, AMD or 100% compatible motherboard
Microsoft® Windows® 10 32/64-bit, Windows® 8.1/8.0 32/64-bit, Windows 7 32/64-bit, Windows Vista® 32/64-bit SP1 or higher
1GB RAM
>600 MB of free hard disk space
Available USB 2.0/3.0 port (High Speed recommended with driver)
Macintosh
Macintosh running Mac® OS X® 10.6.8 or higher
1GB RAM
>600 MB of free hard disk space
Available USB 2.0/3.0 port (High Speed recommended with software)
iOS
iPhones/iPads running iOS 6.0 or higher for Bluetooth^
iPhones/iPads running iOS 6.0 or higher for USB Host Audio streaming via Lightning Connector
^ Devices must support Bluetooth 4.1 (Low Energy) or higher
Android
Phones/Tablets running Android 2.3 or higher for Bluetooth
Phones/Tablets running Android 4.1 or higher for USB Host Streaming*
* Devices must support AOA2 USB Streaming

Chức năng nhận xét chưa được kích hoạt
Chức năng đánh giá chưa được kích hoạt
Bộ lọc sản phẩm
Nhà sản xuất